Joe Grondin is an amazing speaker. He is the 5-time 1st Place Winner of District 45 Toastmasters International Speech Contest. (Joe is on the middle-right in the pic.)
I have been blessed to have him as my mentor for the past year. At the last District 45 Conference last May, I was honored to win 3rd Place after his 1st Place win in the International Speech Contest.
On Thursday, August 13, 2015, Joe Grondin won 1st Place in his SemiFinal contest at the international contests in Las Vegas, Nevada, US. That places him in the Top 10 of the World.
On Saturday, August 15, 2015, Joe will be competing against the other remaining winners of the 9 other SemiFinals contests, in tjhe World Championship of Public Speaking (WCPS).
It is truly an honor to be mentored by one who is truly "among the greats!"
Go Joe!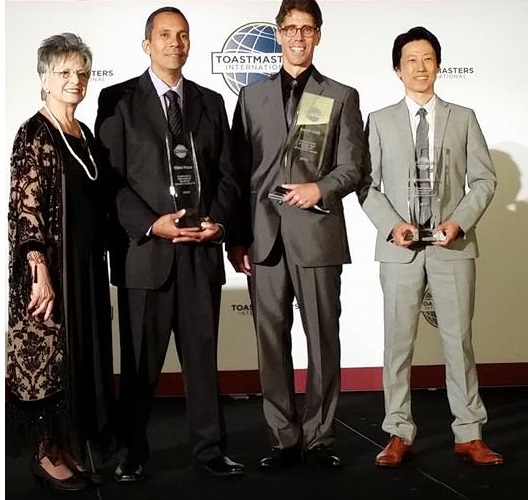 See my pic of Joe Grondin wins 1st in SemiFinals for WCPS 2015 on Pinterest.
–
PIC courtesy of District 45 District Director Sandra Hachey who posted it on social media.