I attended the 2017 District 45 Toastmasters Spring Conference on May 19-21.
District 45 includes all of
Vermont, New Hampshire, & Maine in the USA, and all of
New Brunswick, Prince Edward Island, & Nova Scotia in Canada.
The weekend conference was entirely held at the Grand Summit Hotel at Sunday River in Newry, Maine.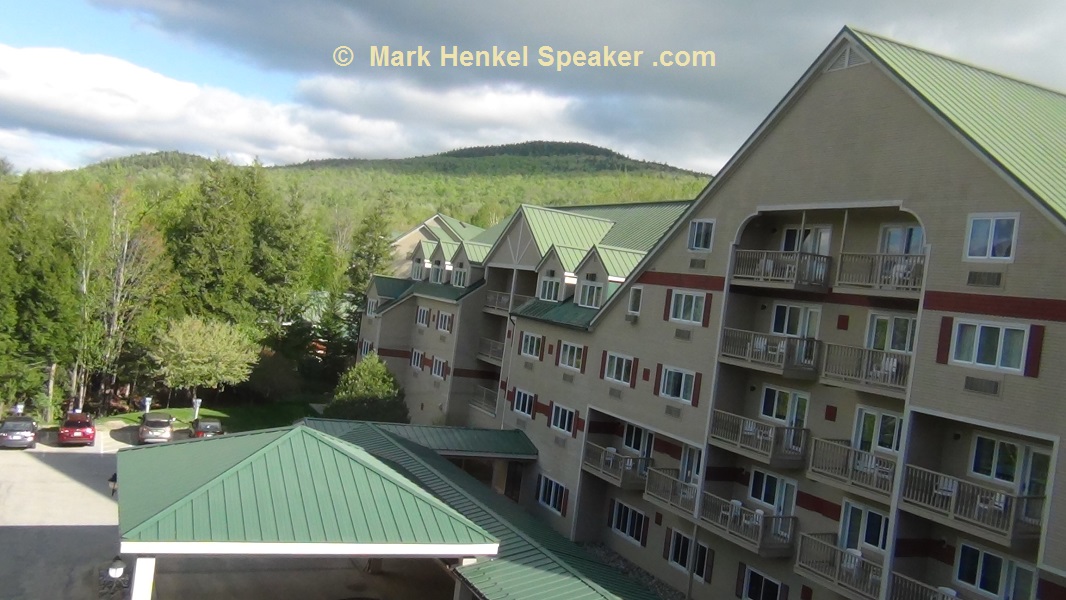 With this venue being a mountain winter ski resort, this conference was held in the hotel's off-season – which was perfect for us!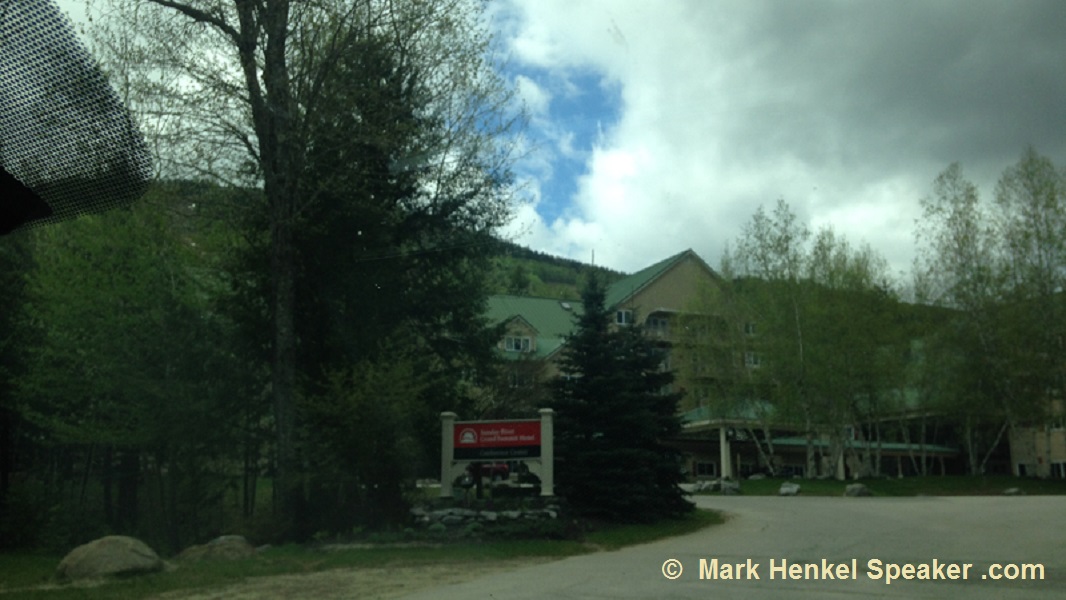 As I had reserved a room that was situated nowhere near our conference's late-night hospitality room, the view from my room looked down into the entryway. Yet, the room also had this wonderful view off into the distance too.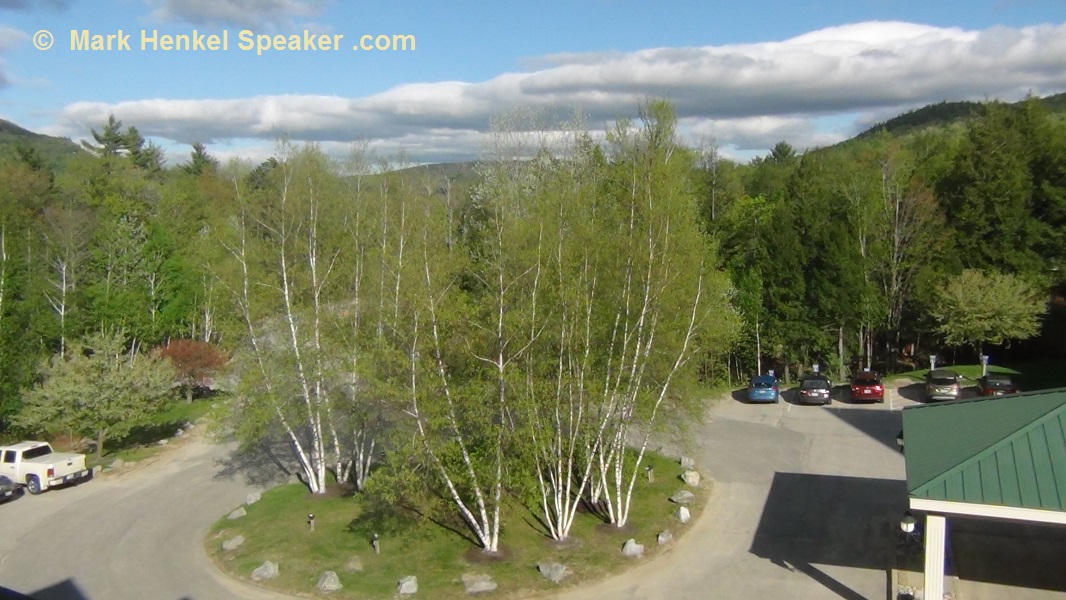 One of the biggest values for me in attending the District Conferences is being able to hang out and learn from my mentor, Joe Grondin (who lives in Canada).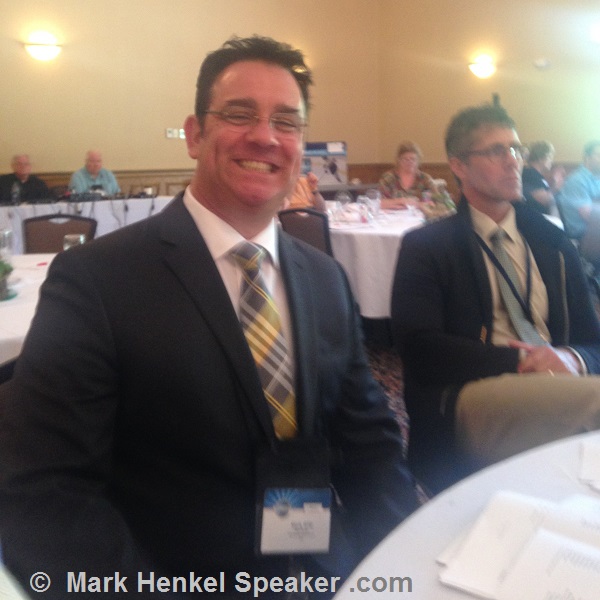 Joe also gave an amazing keynote first thing Sunday morning, called "Why Speak?".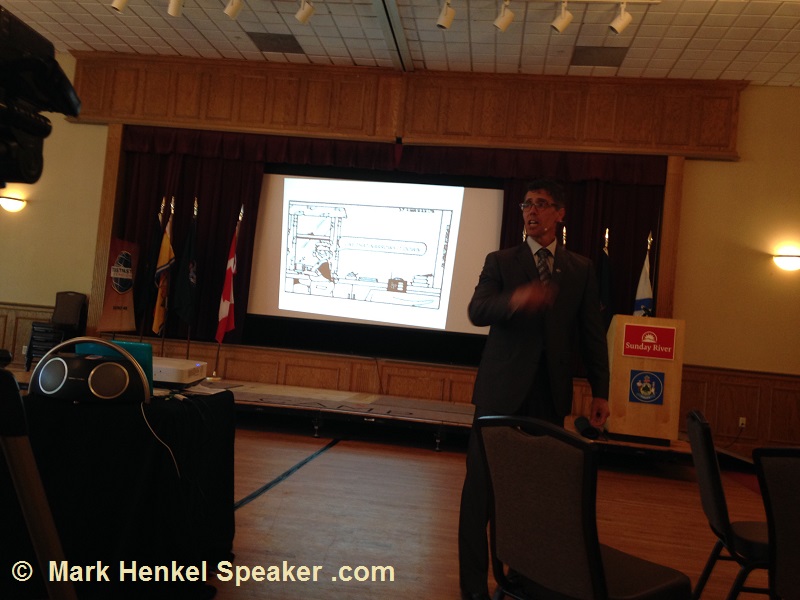 During the Awards Luncheon on Saturday, I received the 2017 Triple Crown (Repeat Achiever) award – "Triple Crown Repeaters."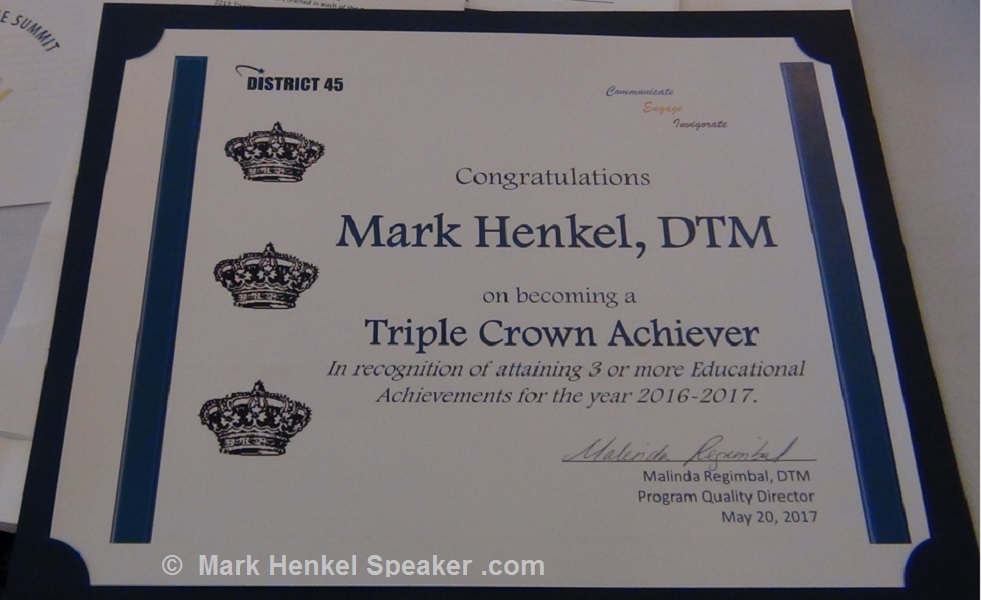 No pre-message was announced to ask picture-taking members of the audience to not block the views of the stage for the rest of the audience. So, as the "Triple Crown Repeater" awards were being announced, several people ran up to the front of the room all at once to take pictures.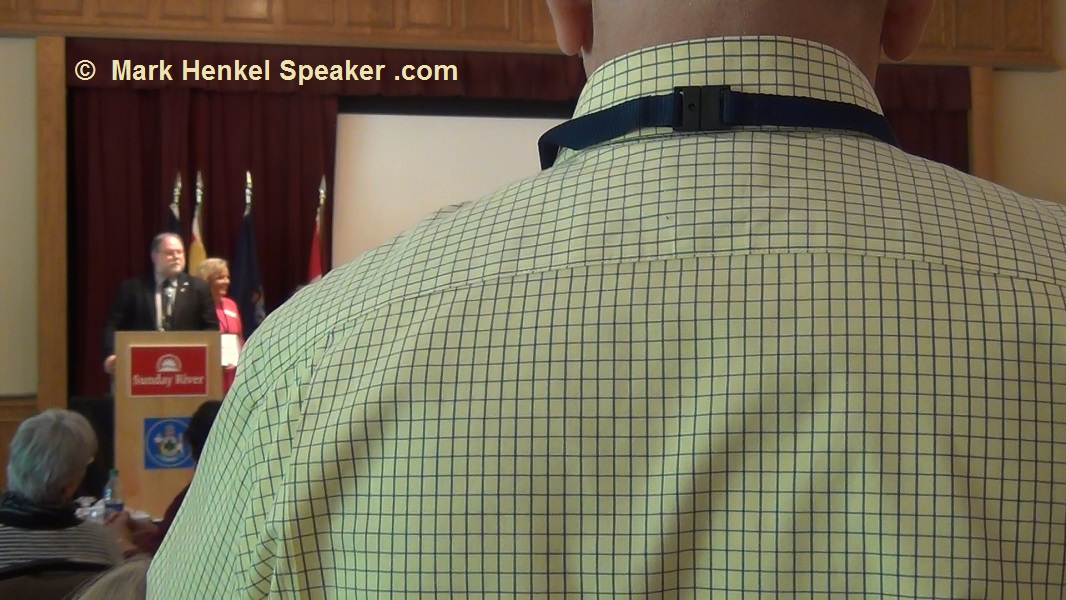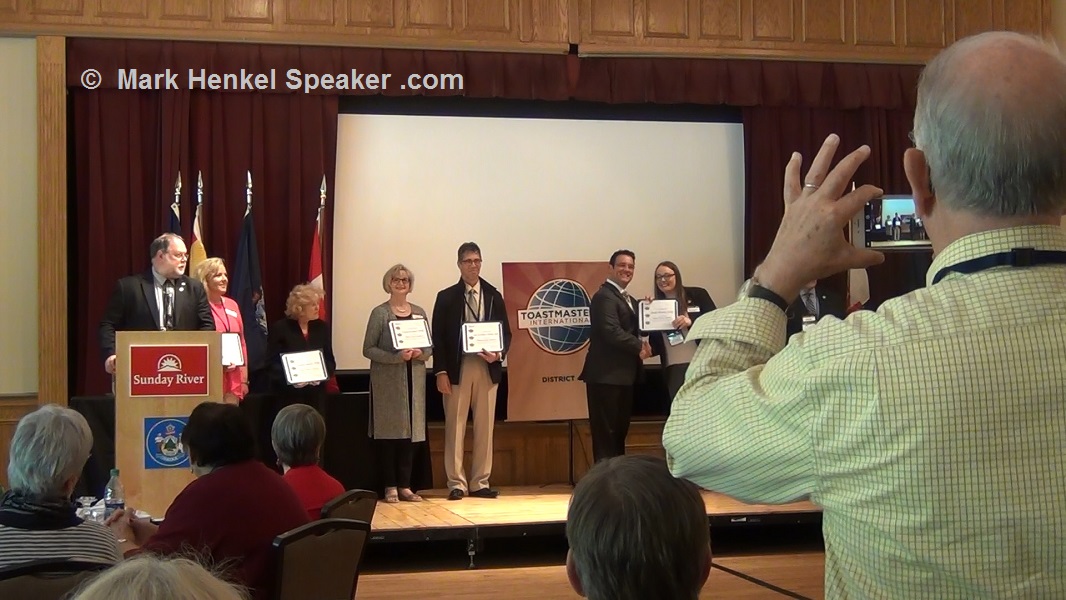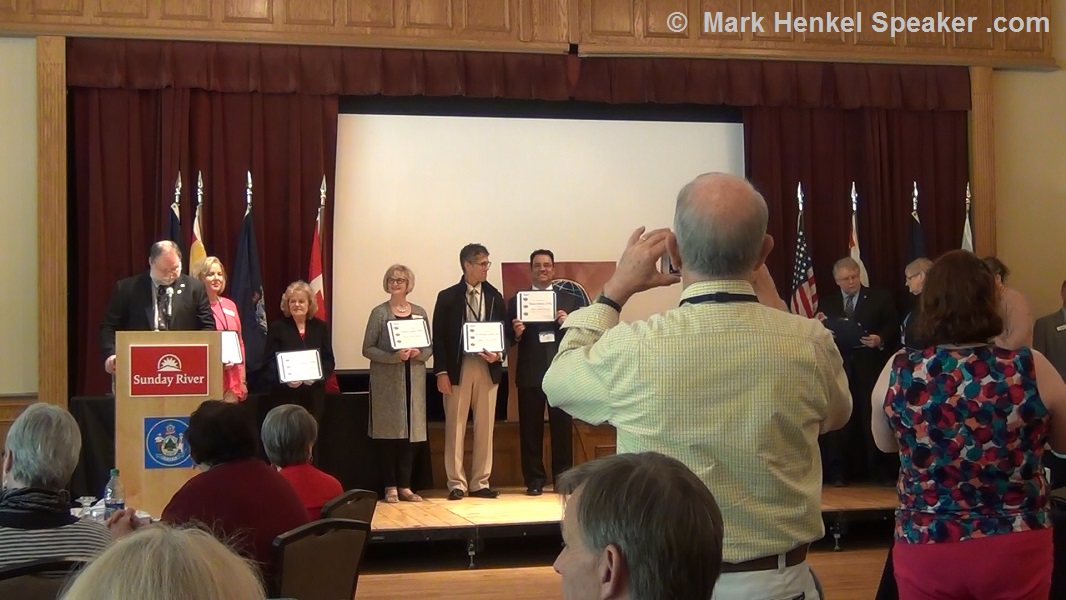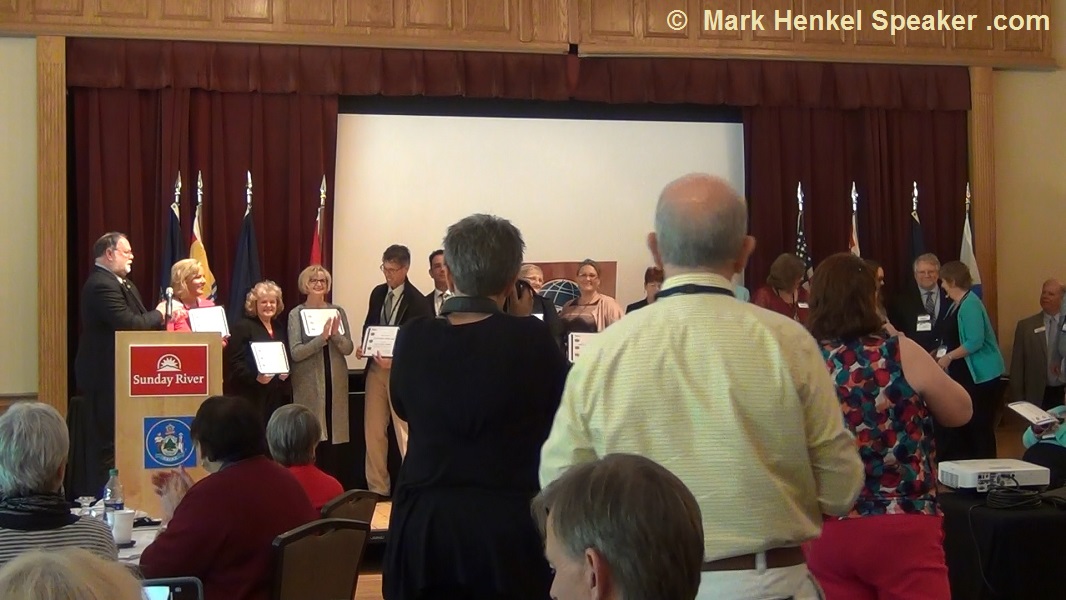 Fortunately, the picture-takers eventually did step out of the view. Even so, one of the great things about Toastmasters is that, when situations like this happen, we use them as "learning opportunities" to know how to avoid such things in the future! By seeing how these kinds of things can unfold, future organizers / event planners of our conferences can know how to prevent them altogether.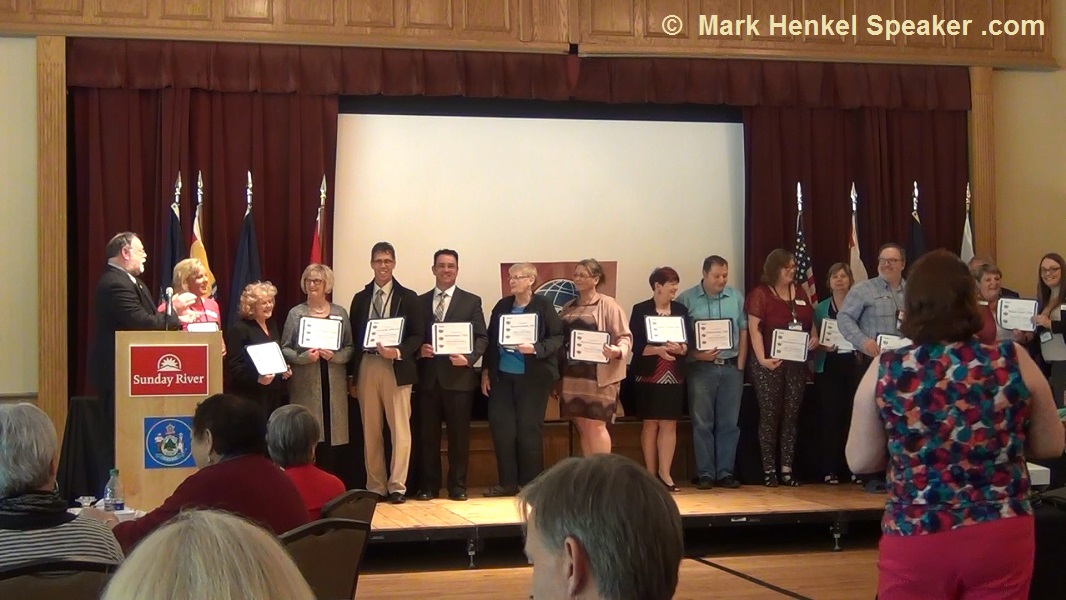 It was an honor receving the award from Program Quality Director Malinda Regimbal.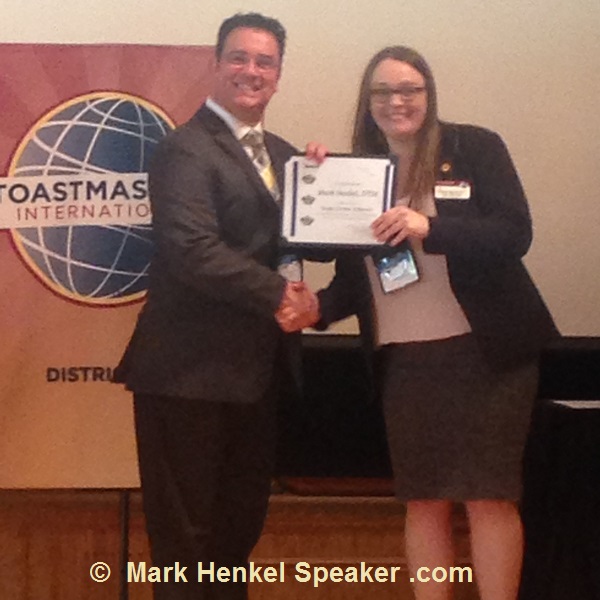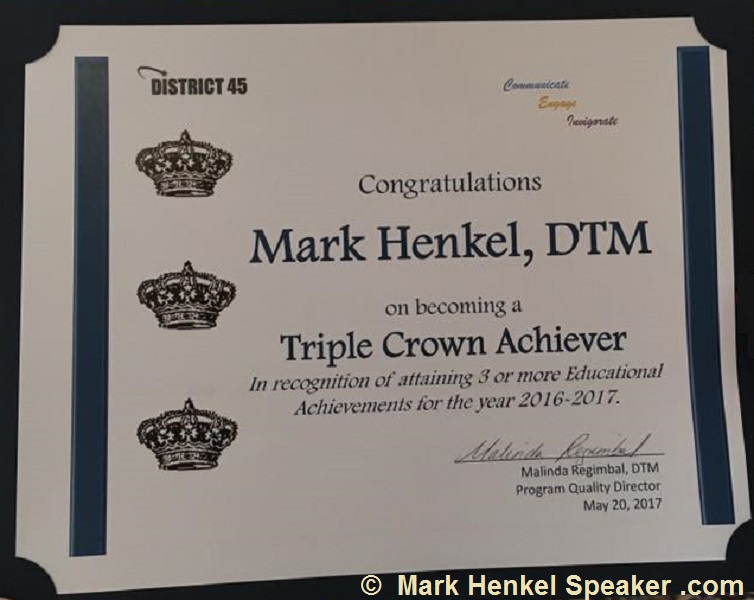 As a Triple Crown Repeater (who has earned this seven times), this was my third time getting the "Triple Crown Repeater" Coffee Cup for it. This year, they changed the style of coffee cups from the last two years.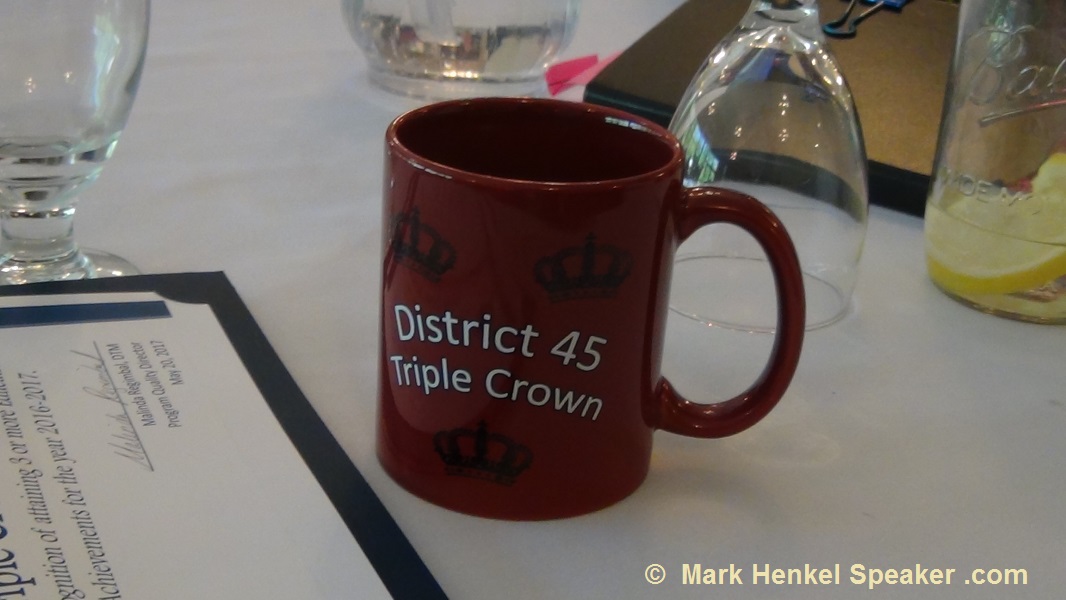 It is always a pleasure to stand on the District stage as one of the "Triple Crown Repeaters" next to my amazing mentor, Joe Grondin.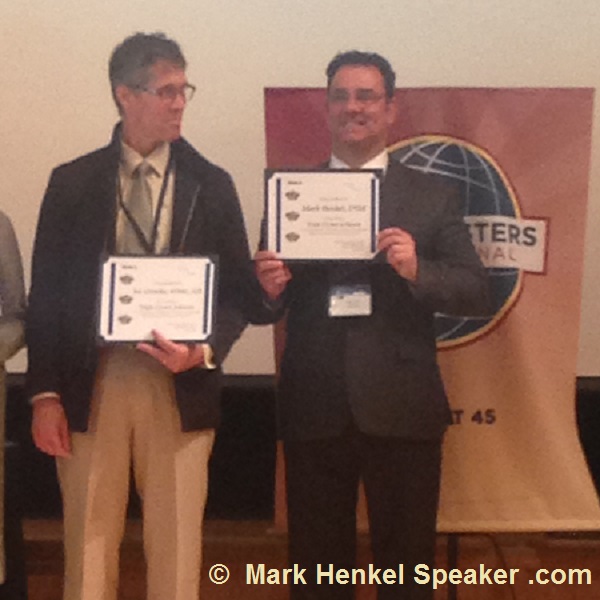 Indeed, it was a pleasure standing on the stage with Joe, with two brand new DTMs (Distinguished Toastmasters) Cheryl Grant (on the left) and Maureen McIntosh (on the right).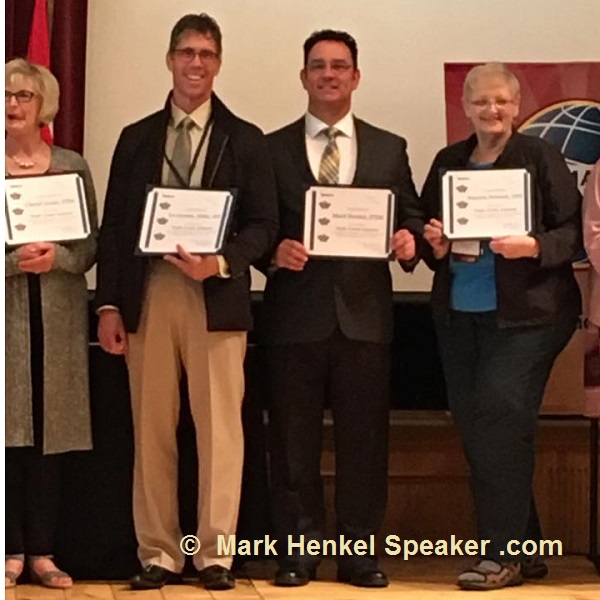 After the "Triple Crown Repeaters" filed off the stage, then all new first-time Triple Crown achievers were next up. From one of my own clubs, my friend and this year's outgoing (in more ways than one!) Area 24 Director Chang Lin received his first-time Triple Crown award from Program Quality Director Malinda Regimbal, assisted by Club Growth Director Jeff Hebert. All first-time achievers receive a notebook, into which they can file future awards!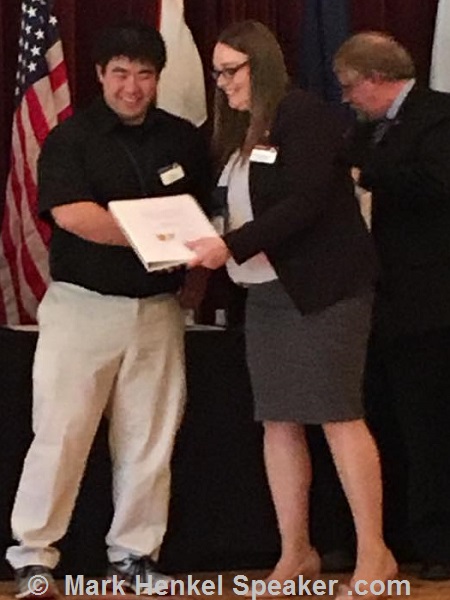 That evening (still Saturday, May 20, 2017), Chang Lin memorably performed the role of the Master of Ceremonies for the District Director's Banquet.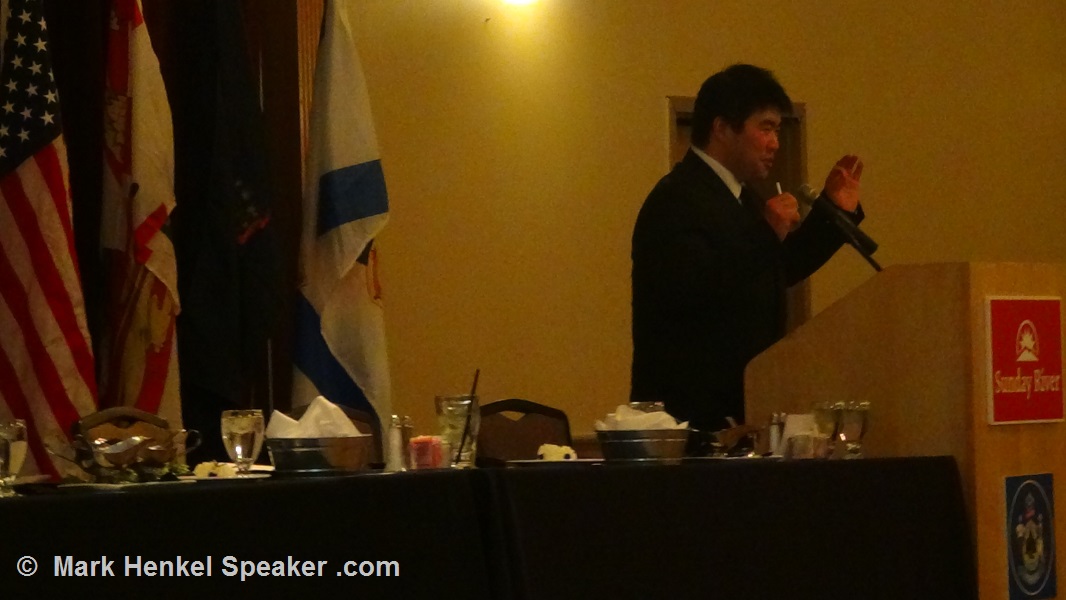 I use the word, memorable, because he gave us a smiling memory that few of us will ever forget! After all of the District Leadership and our Conference's VIP Keynoter, Jana Barnhill, were seated at their places at the head table for dinner, Chang placed something down on the edge of the table and…
CRASH!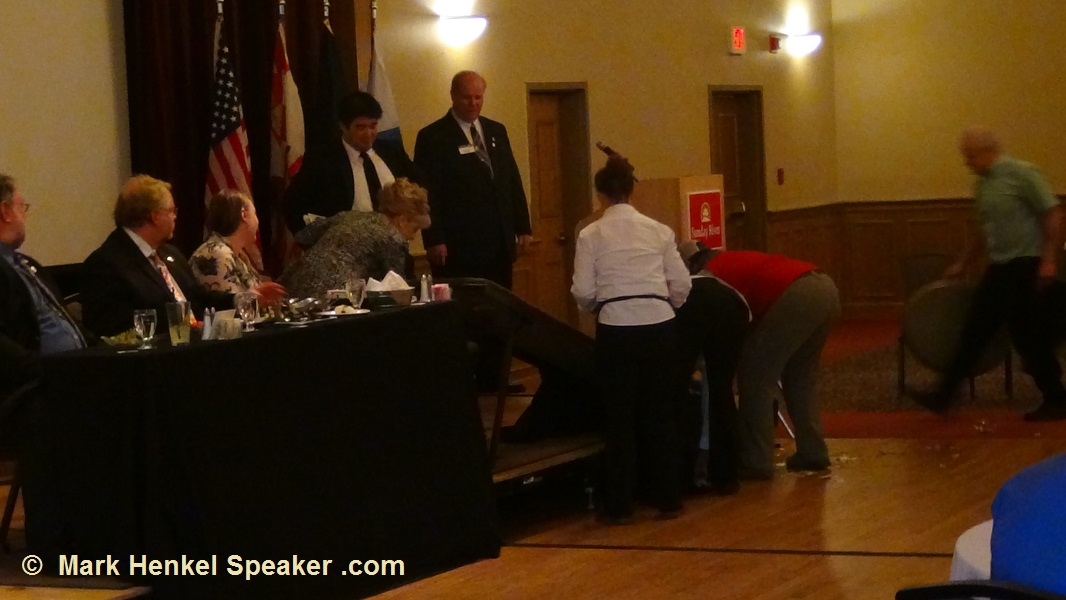 Food and drink fell to the floor, as the legs on that side of the table were not stable.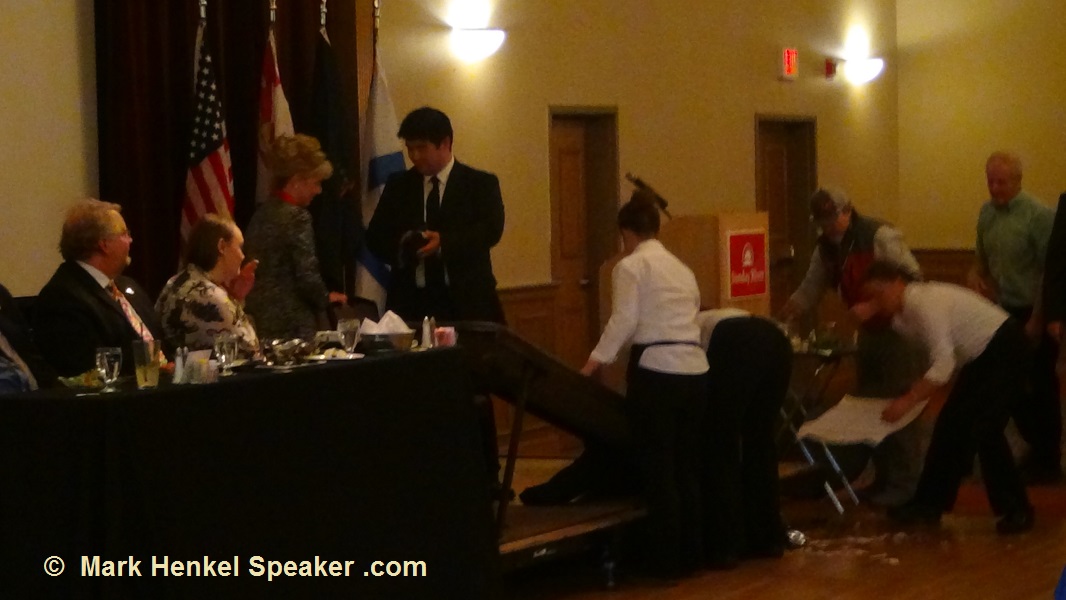 Ever the leader, Chang Lin kept the audience positive and laughing while the fantastic serving crew quickly stepped in to replace the table and setup.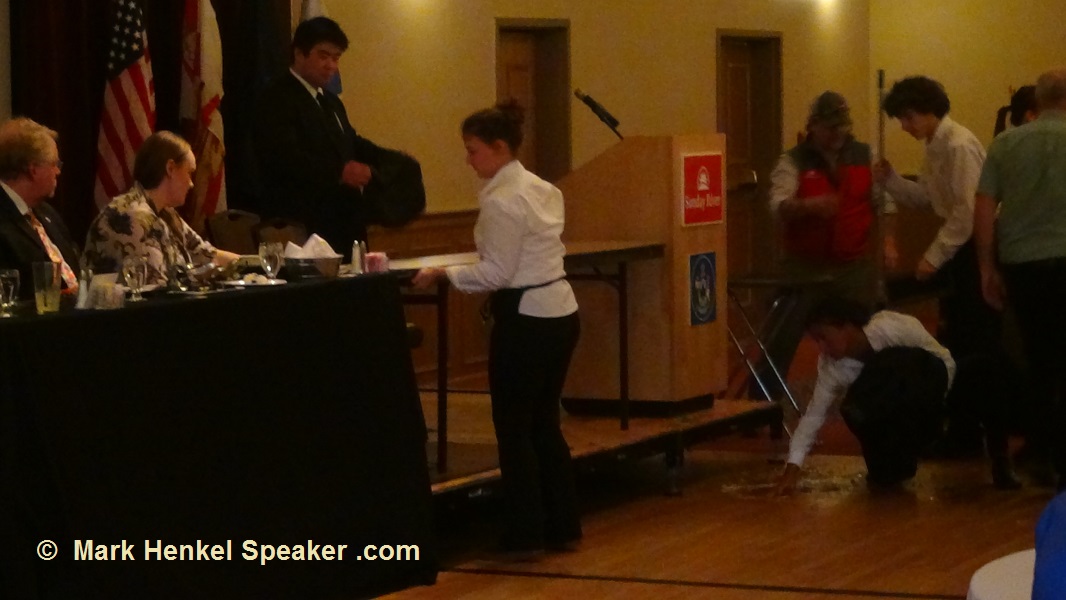 Even drink had ended up on the floor!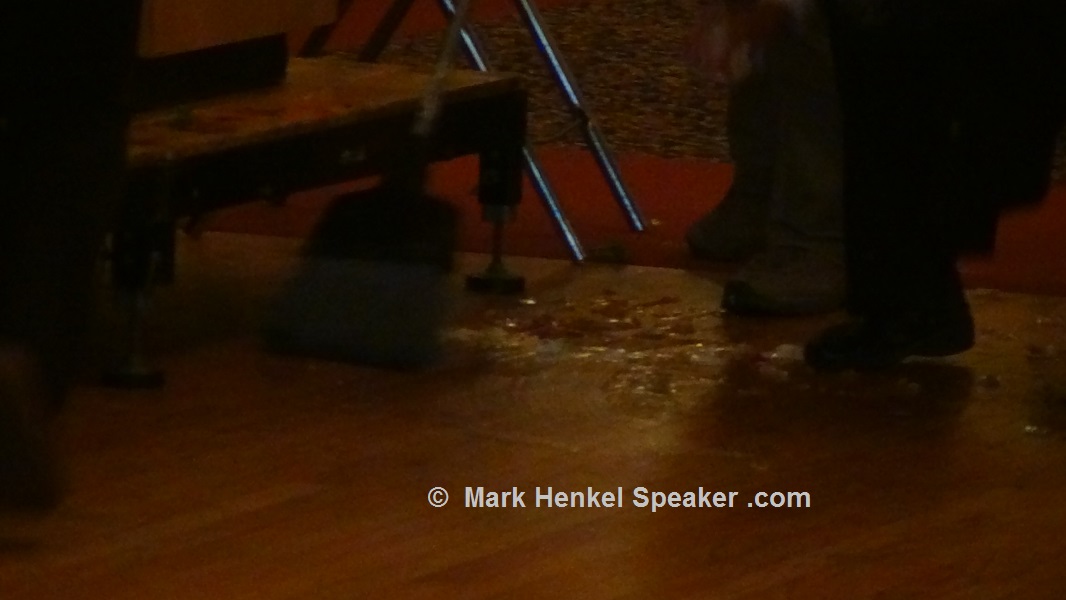 A new table was brought in – one with strong legs – and dinner carried on! This became a fond memory I shall not soon forget. I give major kudoes to Chang Lin for being such a smiling and positive leader throughout it all! Chang rocks.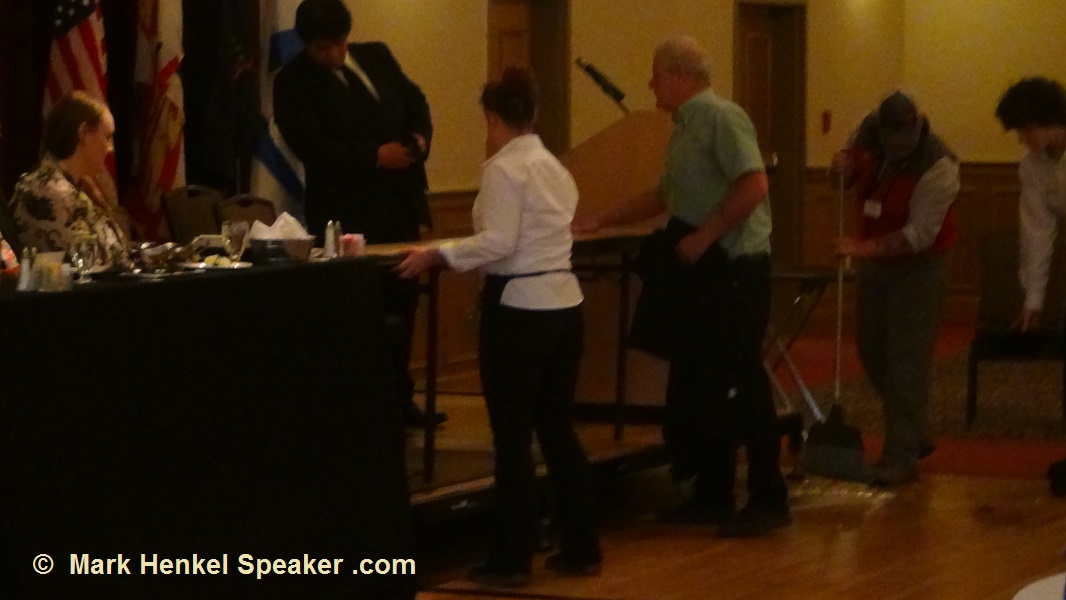 And the rest of the evening went on awesomely. How could it not? Dessert was yummy!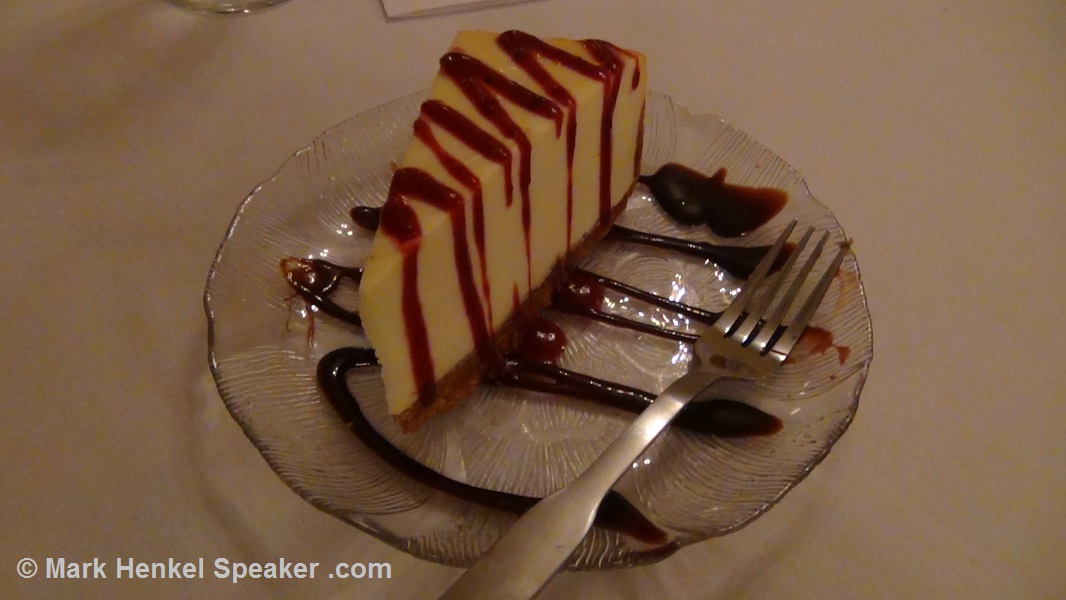 The winners were announced for the District 45 International Speech Contest:
3rd Tom Dowd, 2nd Angi Francesco, and 1st Scott Green.
(This was the first year that Joe Grondin did NOT compete!)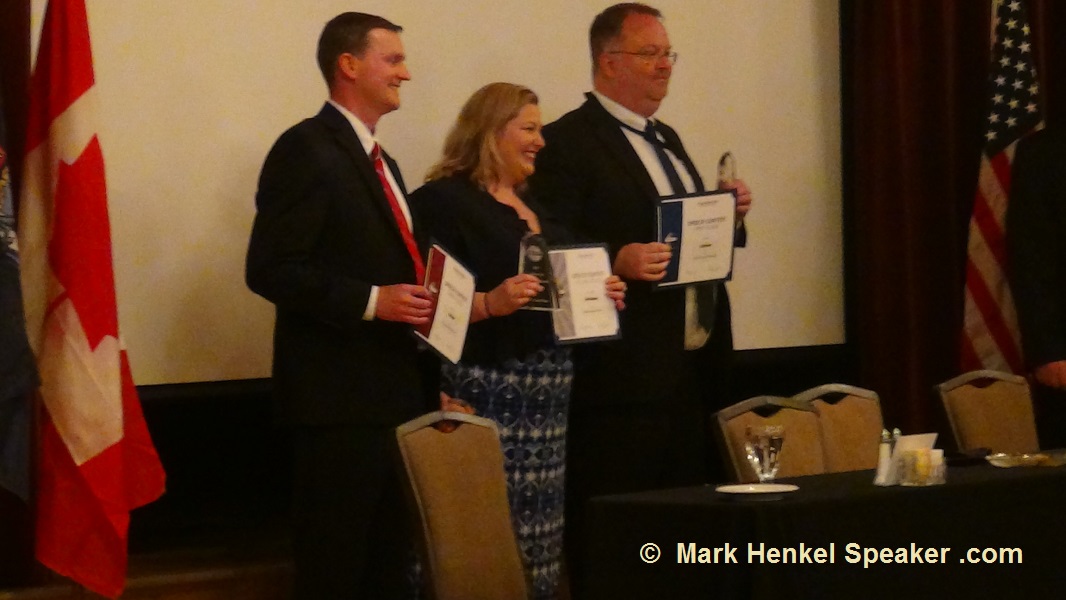 And of course, we had the spitfire of a keynoter, Jana Barnhill – DTM (Distinguished Toastmaster), Top3 Finalist in not one, but two, WCPS (World Championship of Public Speaking) contests, and the fifth woman ever to earn the rare A.S. (Accredited Speaker) award.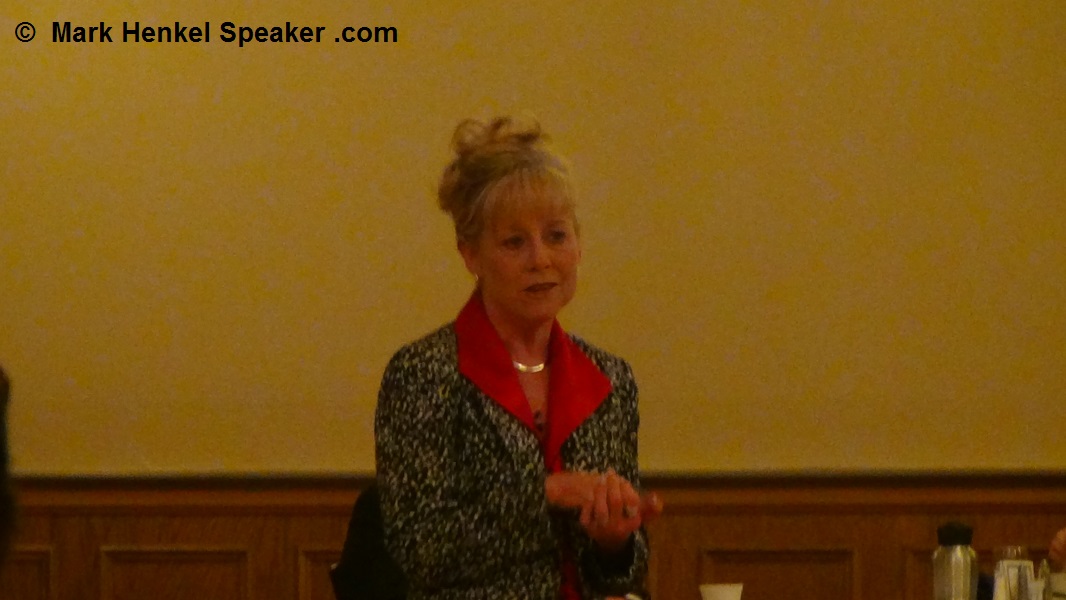 Even though my laptop crashed back in my room at 1:00am, I was not going to let it affect me. I was up early and raring to go for the final activities of Sunday morning.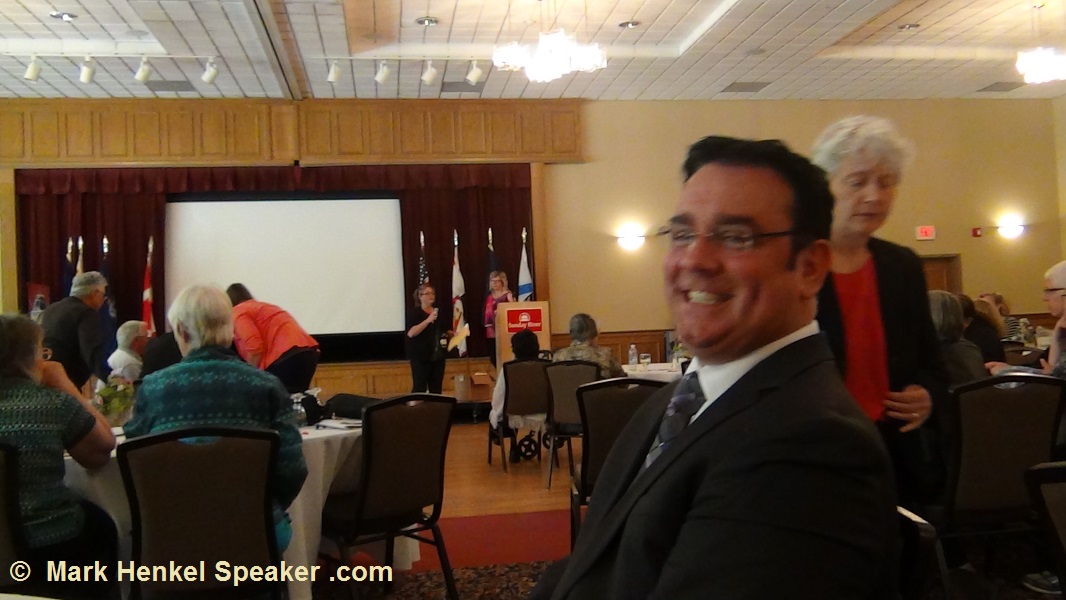 I had to be all suited up because I was competing in the District 45 Table Topics ® Contest.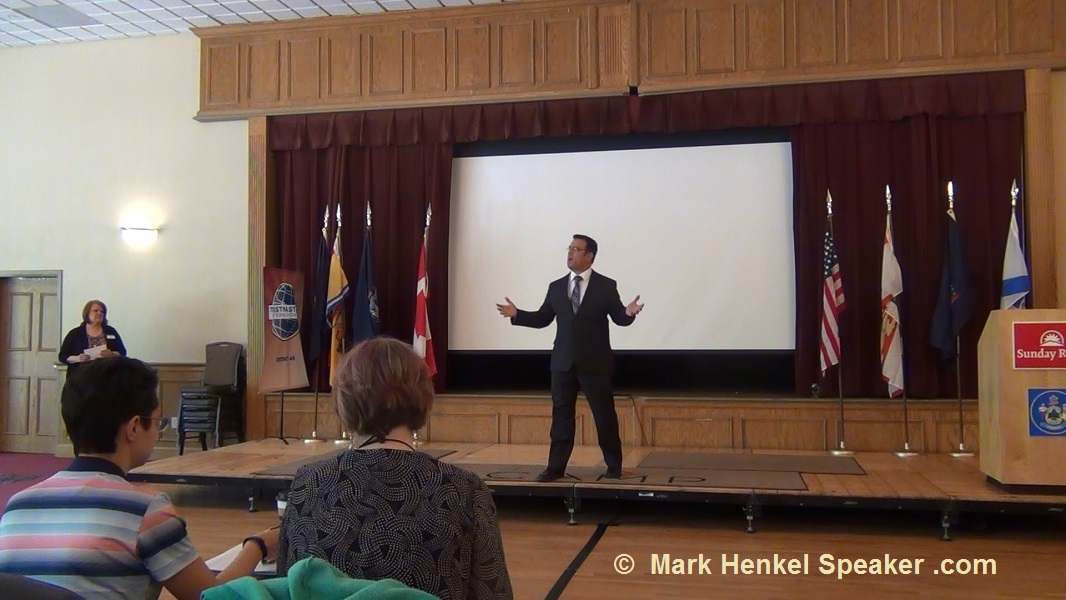 The question was: Tell us something you planned that did not go according to plan.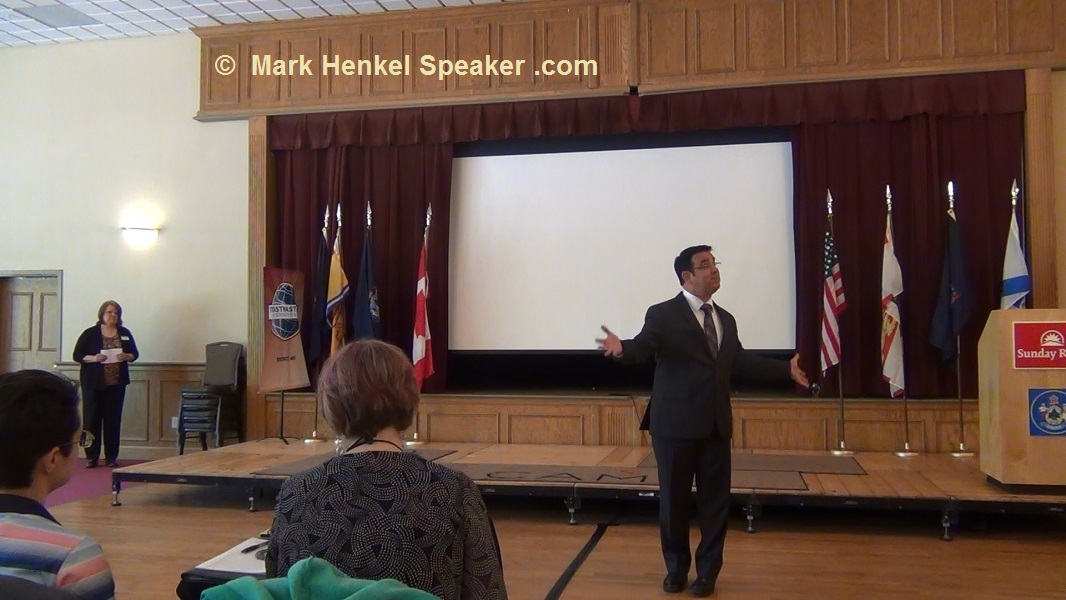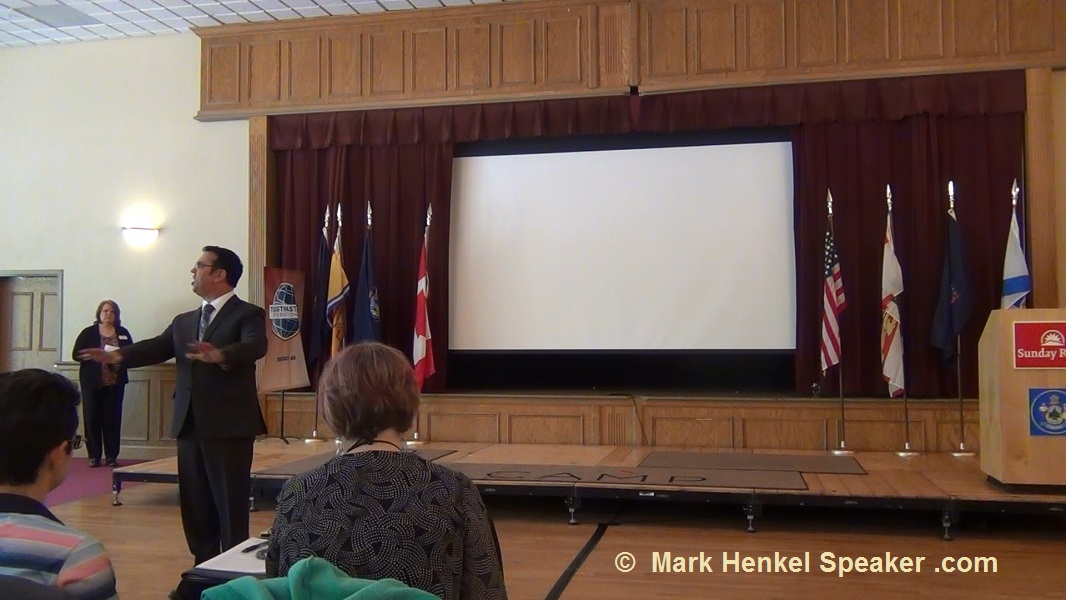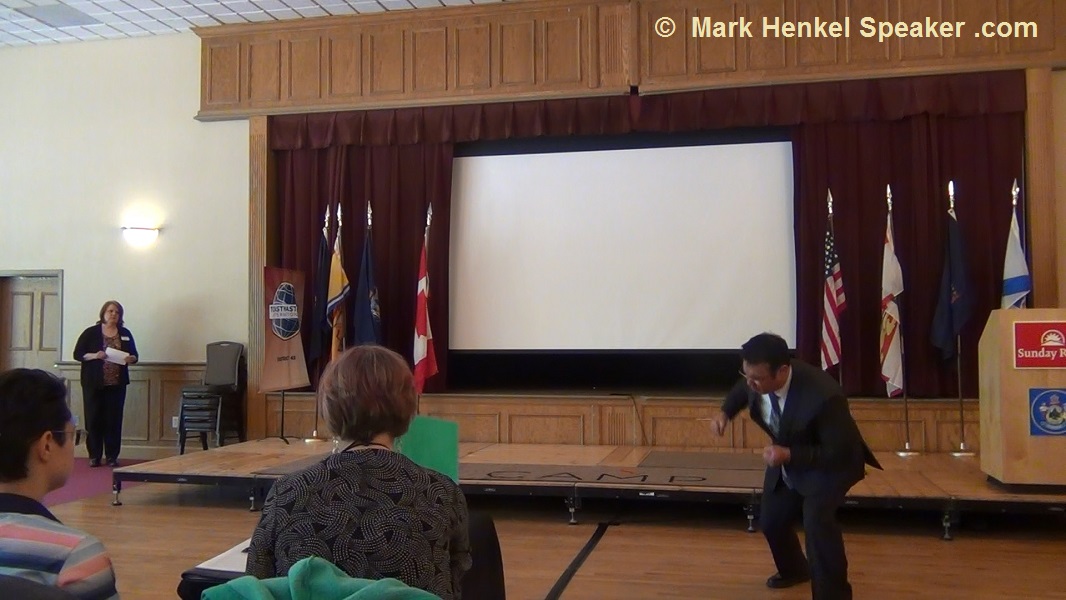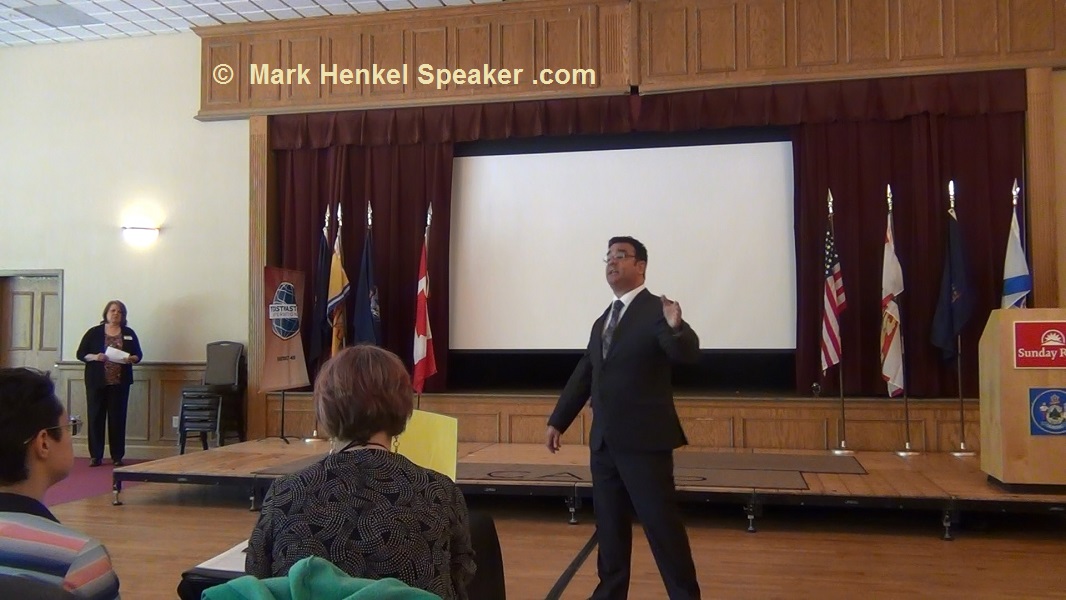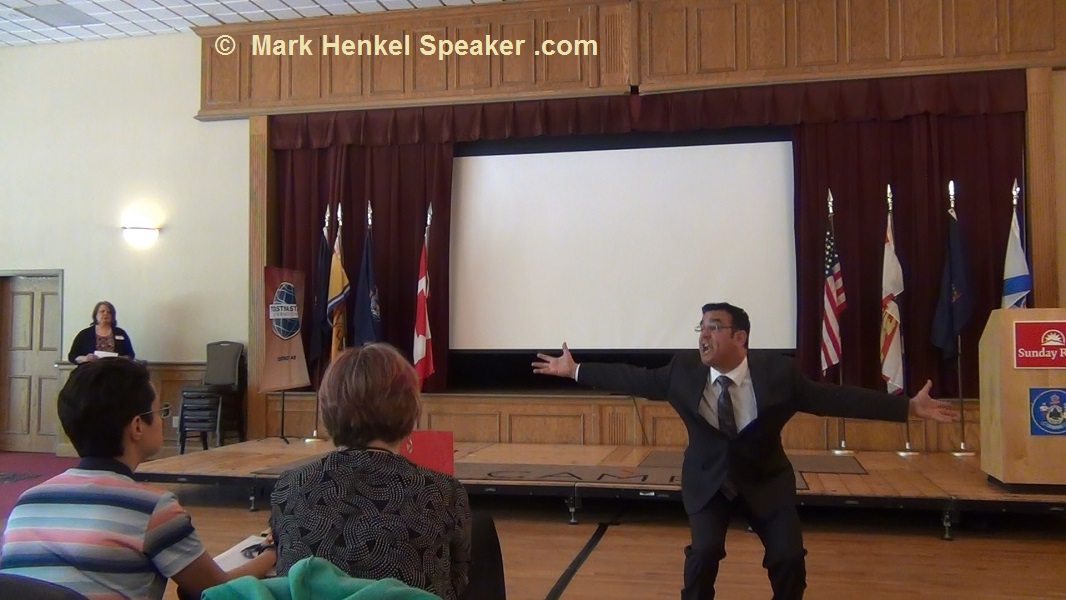 And yes, I did all these mannerisms (and more!) in less than two and a half minutes!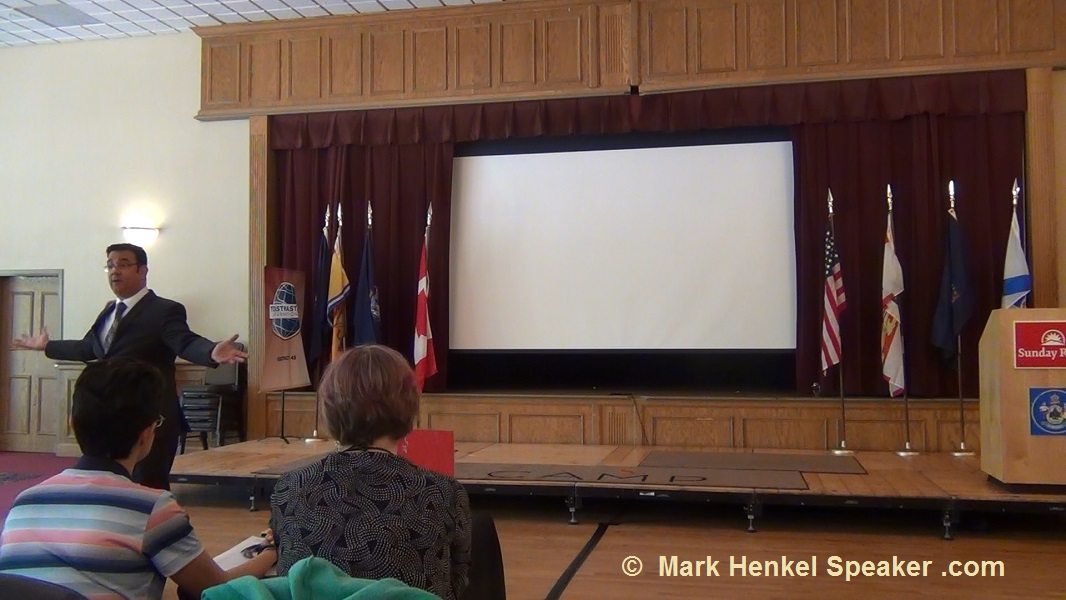 As I was the next-to-last contestant, I did not get to see who or what I was up against. I would have certainly enjoyed seeing them as I am sure they were great. The winners of the contest were:
3rd Jose Zirena, 2nd Betsy Black, 1st Sharon Joseph.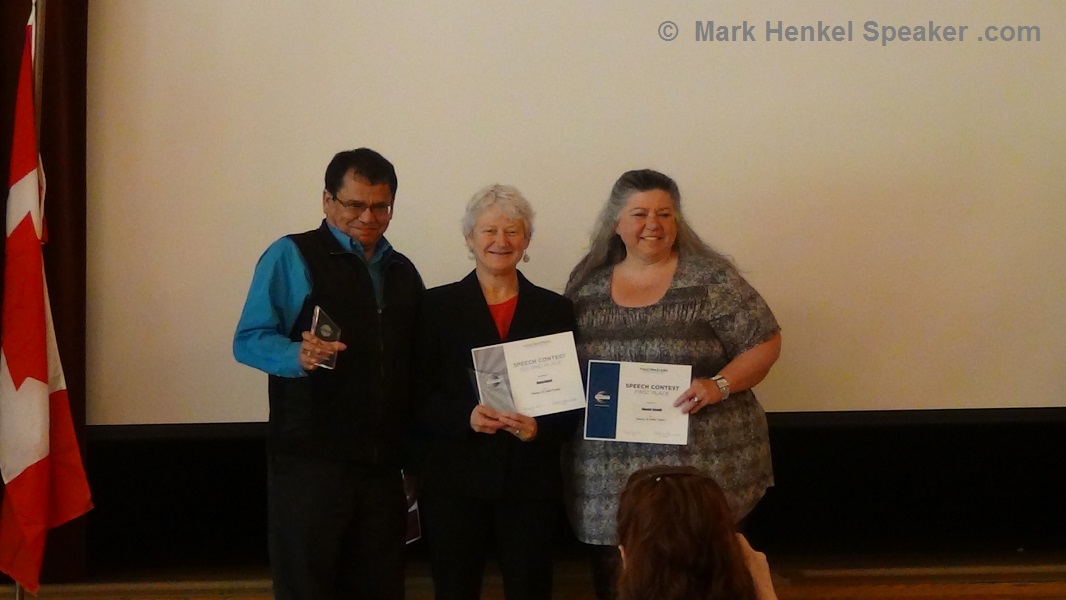 Before bringing the Spring 2017 Conference to a close, the VIP Jana Barnhill installed the top District 45 leadership for the coming year. She even came equipped with a BLINGED out gavel!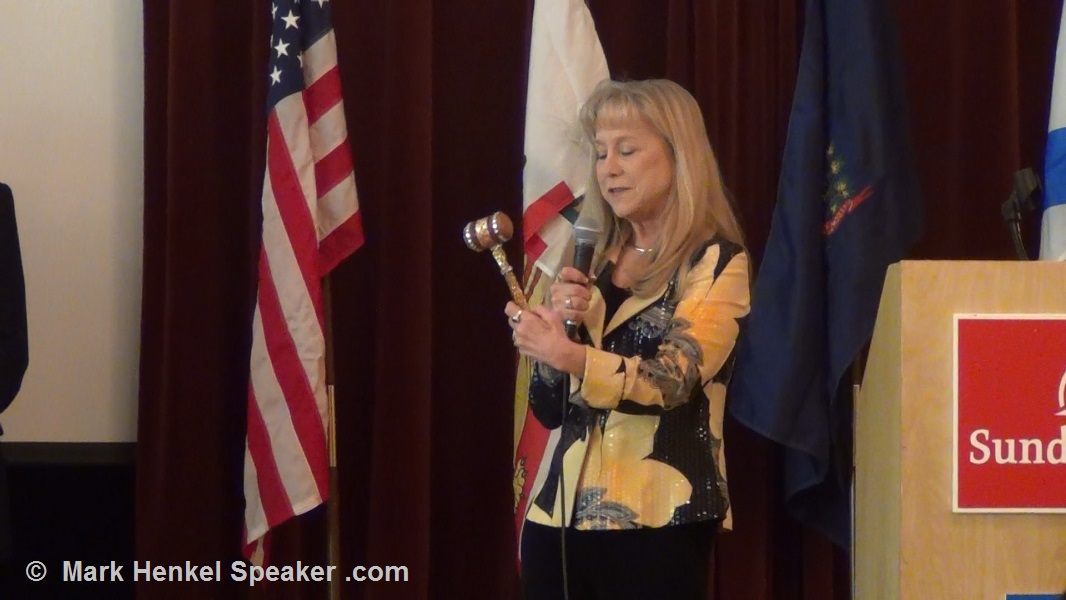 The new District 45 Officers, effective July 1, 2017 through June 30, 2018:
Immediate Past District Director Tom Goodwin
District Director Malinda Regimbal
Program Quality Director Jeff Hebert
Club Growth Director Shane Walsh
Public Relations Manager Jonathan Bohm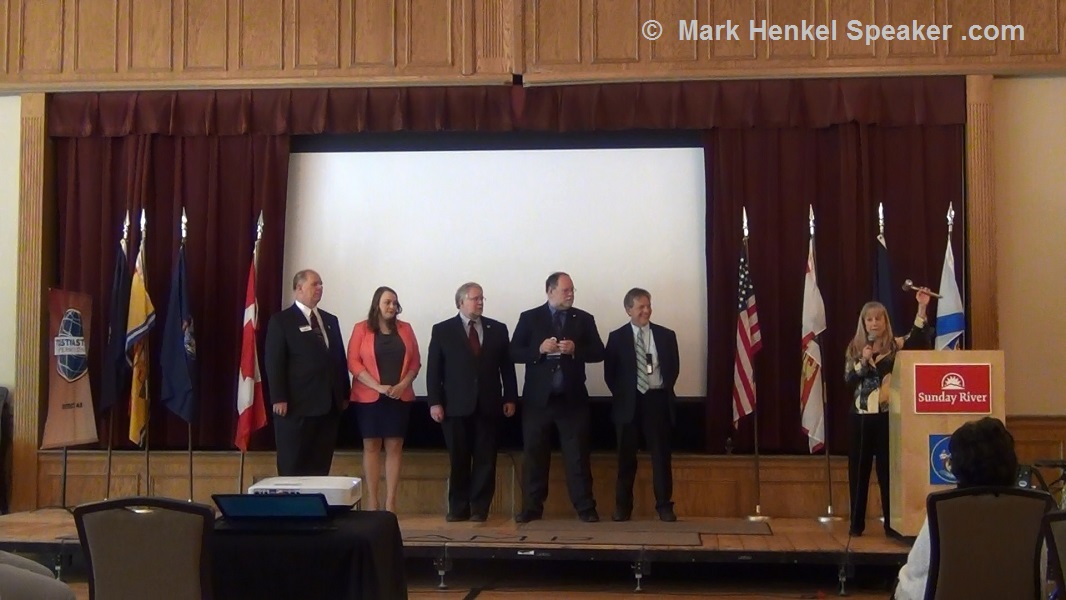 For me, above all the other awesome things about this Conference, the biggest value AND enjoyment for me were these three things.
1) Watching and learning from the superb leadership and outstanding presentations of VIP (a Very Important Person indeed), Jana Barnhill;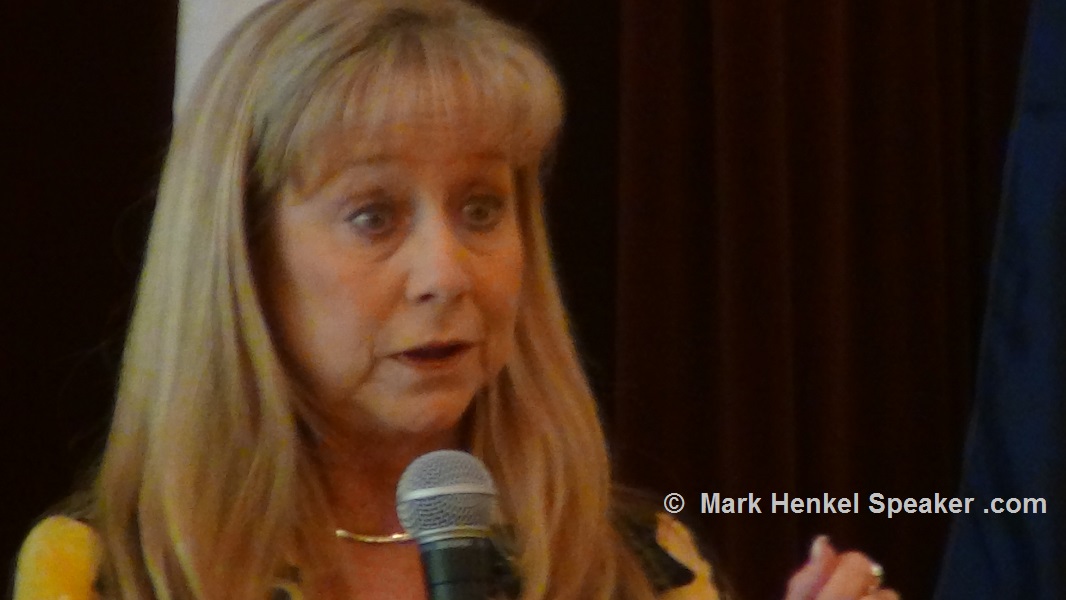 2) Hanging out with, learning from, and watching the presentation of my amazing mentor Joe Grondin;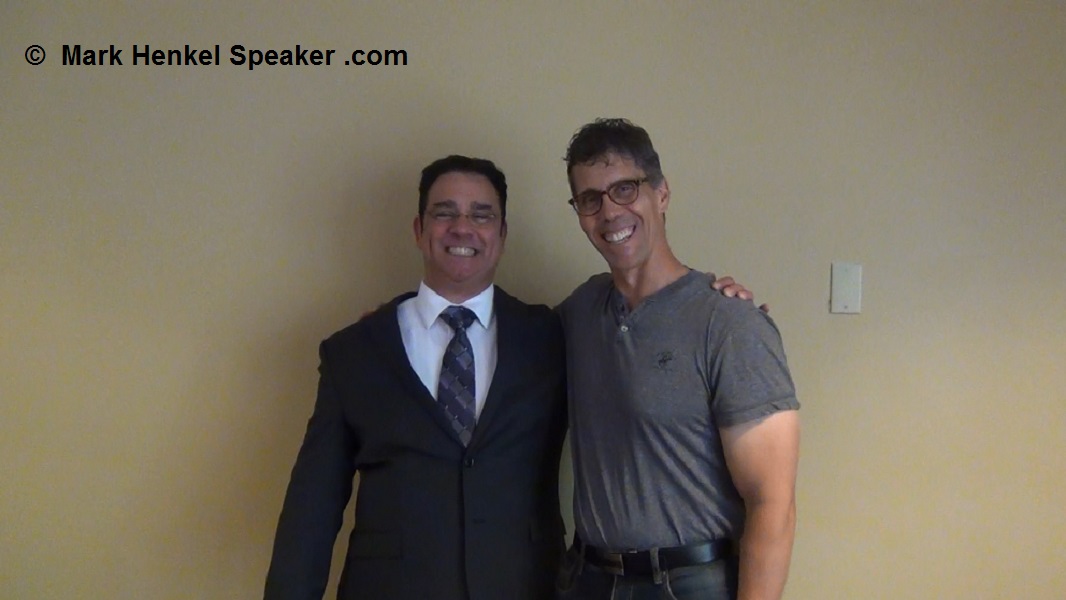 And of course,
3) The absolute joy of speaking in front of the District myself!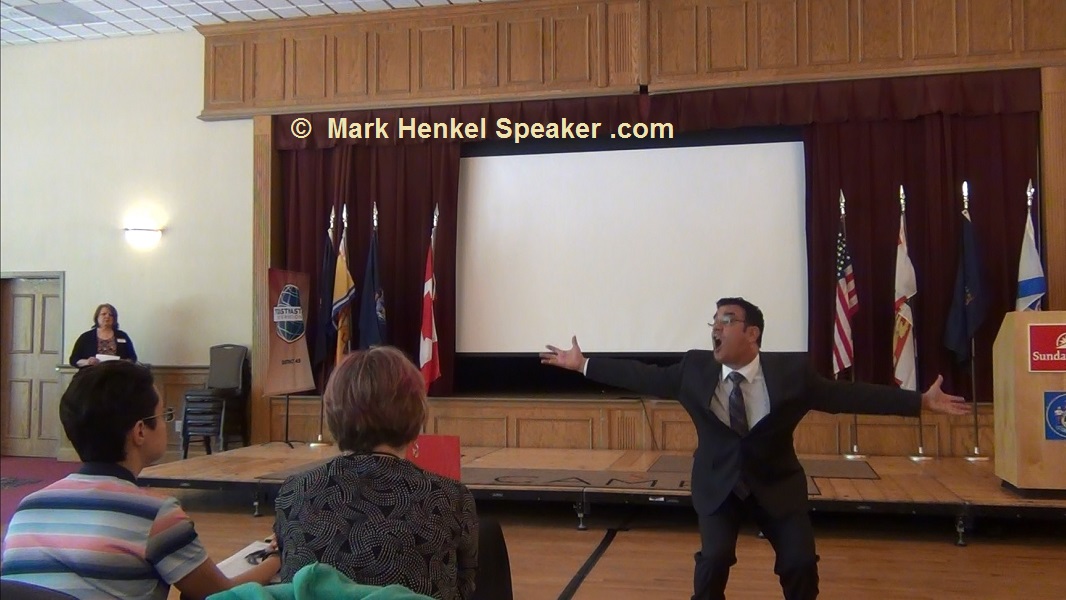 On top of these three things (and so much more!), this was undoubtedly a valuable, fun, and productive time at the District 45 Toastmasters Conference at Sunday River in Newry, Maine, on May 19-21, 2017.